Bob Rance

by Fred Schwab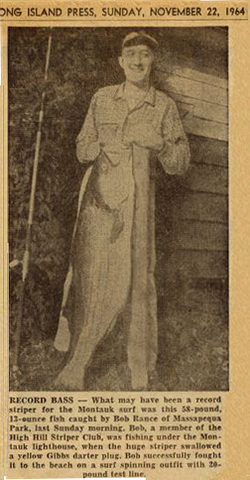 Bob served on the Board 8 times, was the club Secretary in 1958, Vice President in 1962 and President in 1966. He was the winner of at least 7 monthly club contests, including one in November of 1964 when he took a bass of 58-13 which stands to this day as the official club record (see section on 50 pounders). He was/is a gentleman and when speaking chooses his words well.

He loved to fish and was one of the most patient guys that I ever had the pleasure to fish with, and that is certainly why he took the club's Largest Striped Bass award on four occasions, 1959, 1960, 64 and 84., and the weakfish category in 1983.He contributed a great deal to the club but his contributions were not confined to High Hill along.

At some point during early or mid 1967, Bob along with then LIBBA member Irwin Levy and a
fellow named Blair Moger hatched an idea relating to the long fought effort to legally have the striped bass classified as a game fish-no sale. Within a matter of weeks a committee was formed and shortly thereafter an organization entitled Save Our Stripers (SOS), came into being. A number of High Hill members served on the SOS committee or Board, and I believe it was Artie Glass who suggested the name. SOS was not some small club, it became an organization with several thousand dues paying members and roughly 40 or more clubs and it had the tacit support of tens of thousands.

Bob served as it's President during a number of years and was, in general, it's leading spokesman for much of the 17 years that it was active. Most of us involved in SOS and its goal devoted a considerable amount of time and effort, but I can't even guess at the amount, which Bob and also Eileen devoted, it had to be staggering!

Save Our Stripers never achieved it's goal, but I for one believe that the years of relative heated debate in the Legislative Chambers of Albany, through the media and elsewhere played a role in the timing of the birth of the Interstate Striped Bass Management project in late 1976. When the NYS Legislature passed the 24 – inch Striped Bass Management bill in 1983 SOS led the fight. Along with two or three others, Bob, Bob Buss and I made numerous trips to Albany to lobby for it's passage that year. Those who were involved in that effort, and most of all Bob have a right to be proud, and those who use that fishery resource owe them a debt of gratitude.


Adopted from a book "The
Complete History of the High Hill Striper Club " by Fred Schwab, edited by Zeno
Hromin.
---
bill "Doc" Muller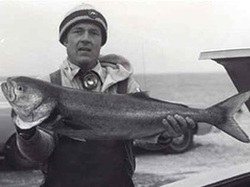 William A. Muller (1974-2001) better known as "Doc", because of his Ph.D. in marine biology, was accepted into the membership of High Hill Striper Club in 1974. Bill has been the most "public" face of HHSC for many years. In addition to being an accomplished surfcaster and surf guide, he is also the author of three very popular books on surf fishing and has been very active as a contributor to many surf fishing magazines including the Long Island Fisherman magazine. Bill is also one of the most popular speakers on the fishing show and seminar cicuit. He was HHSC president in 1976 and 1998. Bill has also served in many elected and appointed positions within the club, including but not limited to the Executive Board and Fish Committee Chairman. His competitive nature and
his never-ending thirst for knowledge has earned him many awards and accolades in and out of the club. Bill finished 1st in club competion for a record 14 consecutive years, a streak unmatched in the club history. He also holds the distinction of being the only member, past or present to land two bass over 50 lb, both of which were caught on artificials. Bill Muller also holds High Hill's record for the largest bluefish at 20.12 lb, caught in 1977, and is to date the only member of HHSC to catch three blues over twenty pounds. With regards to the New York Surf Fishing Contest, Bill has finished in the top ten numerous times
---
Fred Schwab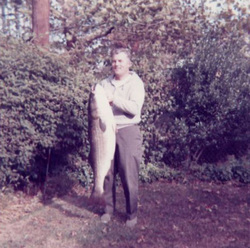 Fred Schwab joined the High Hill Striper Club in 1960 and is currently an honorary member. Over the years I have heard many phrases to describe his accomplishments in life; the one that I've always liked best is "Long Island's most decorated living surfcaster". All of his accomplishments with regard to competition and conservation issues would take more than this page to list and I
feel that if I were list them all, you might lose a sense of what kind of man he is; but here are a few.

Fred was one of the Montauk "regulars" during the 60's and 70's and one of the first to wear a wetsuit along side "The Professor" Jack Frech. He has won High Hill's Club competition more than a dozen times and has won The New York Surf Fishing Contest four times (1980, '81, '82 and 84). He has won countless other awards both within and outside of Club competition and he is one of the few people that can say they have released a bass in excess 60 lbs to swim through another
tide.
His competitive streak is matched by his desire to insure a healthy bass fishery for the next generation. I think it can be safely said that a man like Fred is born only once every generation. He was one of the founding members of the Save Our Stripers organization in 1967 along with other HHSC members. Although they never achieved their goal of game fish status for striped bass, they were instrumental in gaining striped bass management legislation in New York State in 1982. Fred also headed up the New York State delegation to the State-Federal Striped Bass Management Project and is currently, as he has been for many years, an ASMFC Advisor to the Striped Bass Management Plan. He is a past member of the Marine Resources Advisory Council, a past Board Member of the New York Sport Fishing Federation, Vice Chairman of the New York Coastal Conservation Association and an honorary member of the Long Island Beach Buggy Association. He has been honored by the NY-CCA by being the recipient of their special Lifetime Achievement Award. In 1967, Fred served as President of the Club and has held numerous elected and appointed positions. An ardent and vocal conservationist, Fred fought battles with commercial interests for the better part of his life, selflessly spending countless hours in Albany
and Washington, lobbying legislators for the protection of the striped bass. Giving of his time in the surf, he fought overfishing to insure a healthy bass population for the next generation of enthusiasts.

As someone who has fallen in love with surf fishing long after its darkest days, I feel a tremendous amount of gratitude to Fred. Only through his determination and efforts are we allowed to enjoy the fishery we are enjoying today. One of the benefits of being around "special" people is the impact they have on our lives. Although High Hill membership goes through changes with the addition and departure of members, Fred's principals of conservation and zeal for surfcasting are imbedded in the fabric of our club. It is not surprising then, that in 2002 with thousands of fish landed, High Hill members kept only 6 fish for a better than 99% release rate.

I think I can speak for the entire club when I say "Thank you, Fred." You are one of a kind. Fred currently resides with his wife on the East End of Long Island.

By Zeno Hromin


---